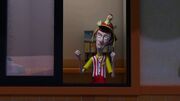 Zak is a minor character in the TV Series.
Bio
Zak is the only named employee of the fast food franchise Chickie D's. He first appeared in Destroy Chickie D!, unconcerned by the sight of General Monger and Susan coming in at his drive-thru in a jetpack. He is rather vengeful as shown in The Partymobile That Invaded Earth after "The Aliens" attacked his Chickie D and took out his frustration on Coverton.
Ad blocker interference detected!
Wikia is a free-to-use site that makes money from advertising. We have a modified experience for viewers using ad blockers

Wikia is not accessible if you've made further modifications. Remove the custom ad blocker rule(s) and the page will load as expected.