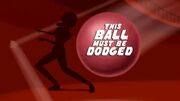 This Ball Must Be Dodged is an episode of Monsters vs. Aliens. It Premieres on January 4, 2014.
Plot
Monger gathers everyone for a game of Dodge ball. It is easy pickings for the aliens, and soon every monster is out. Except Ginormica, who may be the only hope of the planet in yet another Coverton plan.
Gallery
Script
This Ball Must Be Dodged/Script
Previous: It Ruled With an Iron Fist
Next: It Spoke With Authority
Trivia
This episode makes several references to the movie Die Hard.
The show is more up to-date from this episode onward.
Ad blocker interference detected!
Wikia is a free-to-use site that makes money from advertising. We have a modified experience for viewers using ad blockers

Wikia is not accessible if you've made further modifications. Remove the custom ad blocker rule(s) and the page will load as expected.