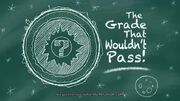 The Grade that Wouldn't Pass! is an episode of Monsters vs. Aliens. It premiered on January 18, 2014.
Summary
Dr. Cockroach tampers with Sqweep's project, the alien receives a bad grade.
Gallery
Script
The Grade that Wouldn't Pass!/Script
Trivia
A running gag in this episode is Susan getting hurt frequently by other characters such as Sta'abi and Dr. Cockroach squishing her against the wall and floor.
Squeep's computer gave Dr.C an hour to do his number 7. But when Sqweep does number 7 in the episode Number Seven! it only took a minute.
Previous: Debtor Alive!
Ad blocker interference detected!
Wikia is a free-to-use site that makes money from advertising. We have a modified experience for viewers using ad blockers

Wikia is not accessible if you've made further modifications. Remove the custom ad blocker rule(s) and the page will load as expected.