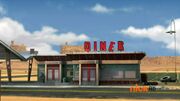 The Diner is a restaurant just a few miles from Area Fifty-Something.
History
The diner first appeared in Welcome to Area Fifty-Something after the Monsters were fired by President Hathaway. It became more prominent in later episodes, when the plot took place outside the base.
Trivia
Judging by it's exterior that the diner had been closed down before the series' premiere.
The Diner's existence is clearly an homage to the 50's period, which itself was the inspiration to the film and series.
The Diner is shown in the theme song and Ginormica burst out of it to catch a flying saucer.
The Diner seems to be a redressed version of the gas station the monsters met at during the film.
In The Wormhole Has Turned, items from inside the diner were used for the test.
In You Can't Breathe in a Diner in Space!, it had been teleported into space.
Ad blocker interference detected!
Wikia is a free-to-use site that makes money from advertising. We have a modified experience for viewers using ad blockers

Wikia is not accessible if you've made further modifications. Remove the custom ad blocker rule(s) and the page will load as expected.