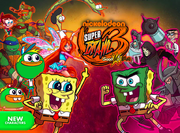 "This page is under construction."
Description
Brawl is BACK! What side are you on? Good vs Evil, play now.
Info
Super Brawl 3 is one of Nick's popular games. In the game, you can play as B.O.B. and Sqweep.
Playable Characters
Good Characters
Sanjay and Craig
Spongebob Squarepants
Leonardo
Michelangelo
Raphael
Donnie
Timmy Turner
Gold Ranger
Bloom
Korra
Sqweep
B.O.B
Tufflips
Po
Evil Characters
Abrasive Spongebob
Plankton
Noodman
Shredder
Xandred
Rabbids
D. Crocker
Amon
Master Junje
Fans
Good
Boys
Nagesh(Sanjay and Craig)
Dylan(Spongebob)
Ryan(Leonardo)
Ved(Donnie)
Ad blocker interference detected!
Wikia is a free-to-use site that makes money from advertising. We have a modified experience for viewers using ad blockers

Wikia is not accessible if you've made further modifications. Remove the custom ad blocker rule(s) and the page will load as expected.