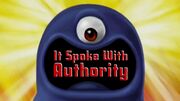 It Spoke With Authority is an episode of monsters vs aliens. It premiered on January 4, 2014.
Description
Dr. Cockroach creates a spray to give the President more authority.
Gallery
Script
It Spoke With Authority/Script
Trivia
Coverton attempts and fails to destroy the base in this episode.
This is the second time B.O.B. says to Coverton "Up high alien guy!". First being Frenemy Mine.
President Hathaway only appears in the episode to be key to the plot. Then never appears anymore in the episode.
Previous: This Ball Must Be Dodged
Next: Debtor Alive!
Ad blocker interference detected!
Wikia is a free-to-use site that makes money from advertising. We have a modified experience for viewers using ad blockers

Wikia is not accessible if you've made further modifications. Remove the custom ad blocker rule(s) and the page will load as expected.