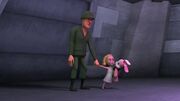 Emily is a minor character from the TV series
Bio
Emily is the daughter of Pete, a soldier who works in Area Fifty-Something who brought her on Bring your Daughter to work day and the 1st owner of Bun-Bun. She lost Bun-Bun when she got to close to the isolation zone, but Pete promised to buy her a new one, fearing He'd be in court martial.
Trivia
She's only listed in the credits as Little Girl.
Ad blocker interference detected!
Wikia is a free-to-use site that makes money from advertising. We have a modified experience for viewers using ad blockers

Wikia is not accessible if you've made further modifications. Remove the custom ad blocker rule(s) and the page will load as expected.