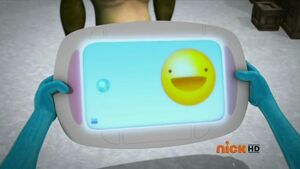 The Educational Television is Sqweep's equivalent to TV. It's purpose is to educate the viewer by answering simple quizzes, rewarding correct answers with TV shows and punish with powerful lasers or send you to the sun if you are too stupid. It was destroyed by Ginormica when she stepped on it.
The Educational television was voiced by April Winchell.
Ad blocker interference detected!
Wikia is a free-to-use site that makes money from advertising. We have a modified experience for viewers using ad blockers

Wikia is not accessible if you've made further modifications. Remove the custom ad blocker rule(s) and the page will load as expected.