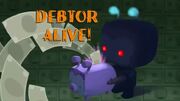 Debtor Alive! is an episode of Monsters vs. Aliens. It premiered on January 18, 2014.
Description
Link wants some candy by brute force, and a passing sqweep lends him a loan. It isn't past a few seconds when everyone drains sqweep's account bone-dry, and Pip of the galactic marketplace reclaims the immense debt by draining everyone of certain things.
Script
Trivia
Link bought the X-25 in this episode.
Errors
The 1000 dollar bills have Barack Obama's face on them. It should be Grover Cleveland.
Gallery
Previous: It Spoke With Authority
Ad blocker interference detected!
Wikia is a free-to-use site that makes money from advertising. We have a modified experience for viewers using ad blockers

Wikia is not accessible if you've made further modifications. Remove the custom ad blocker rule(s) and the page will load as expected.