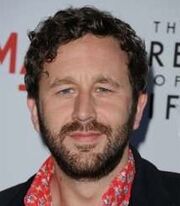 Chris O'Dowd (born 9 October 1979) is a Irish actor and comedian who voices Dr. Cockroach in the television series of Monsters vs. Aliens.
Trivia
Despite not working together in either the movie or TV series, Actor O'Dowd and Director Rob Letterman have collaborated in the 2010 movie Gulliver's Travels.
Ad blocker interference detected!
Wikia is a free-to-use site that makes money from advertising. We have a modified experience for viewers using ad blockers

Wikia is not accessible if you've made further modifications. Remove the custom ad blocker rule(s) and the page will load as expected.